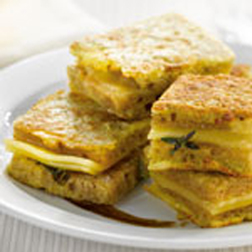 Ingredients
150g sliced Comté
8 slices of sourdough bread
4 eggs
4 tablespoons of double cream
20g of flour
Salt and pepper
Dried thyme
To prepare the mixture whisk the eggs and cream together and season with salt and pepper.
Cut the Comté into slices and remove all crusts from the sourdough loaf.
Dip the bread then in flour and place aside.
Next dip the bread in the egg and cream mixture and allow this to rest for a couple of minutes so the mixture can be absorbed.
Cover 4 slices of bread with slices of Comté. Seasoning the cheese with pepper and a sprinkle of thyme, then cover with the slices of bread.
Put everything in a buttered or oiled pan until bread starts to turn golden.
Remove from pan and serve with a side salad.